Having operated in Taiwan for dozens of years, Hsin Tung Yang has always been committed to promoting the local economic developments at sites of our operations in order to achieve our vision for synergistic growth with the local community and partners throughout our value chain. For instance, from the beginning of development of our highway service area to their day-to-day operations, Hsin Tung Yang consistently promotes "local agriculture" and "arts and culture", so that unique local characteristics can be seen by more people. At the same time, in order to increase local employment opportunities, we also prioritize recruitment of local residents.
Action Plan I:

Local Procurement and Product Development
Hsin Tung Yang is actively developing unique local products, which are procured from small farmers through contractual sale agreements, so that hardworking farmers can earn more stable sources of income. In addition, Hsin Tung Yang also co-develops quality products and supports the empowerment of small farmers through onsite visits from supervisors and mentorship from food professional technologists. Unique products infused with local agricultural ingredients include: Traceable Pineapple Cakes from small pineapple farmers in Nantou; Makauy/Kumquat/Sanxing Onion/Dajia Taro Sausages; and dried fruit gift boxes launched in 2019, including Dried Aiwen Mango, Dried Pink Guava, and Dried Pineapple.

Action Plan II:

Young Farmers' Market
To promote agricultural development in Taiwan and to encourage young farmers and organic farming method, thereby achieving a sustainable balance in the people and land, Hsin Tung Yang has not only actively used Taiwanese produce as food ingredients and developed unique, local foods, but also set up young farmer's markets including "Farmers' Direct" at all four of our highway service areas. In addition, we also collaborate with external vendors including "Farm, Sweetness and Taste" and "Biliu Farm" to provide market exposure and sales opportunities to quality local small farms. In 2019, total revenues from young farmers' markets have reached NT$50.16 million.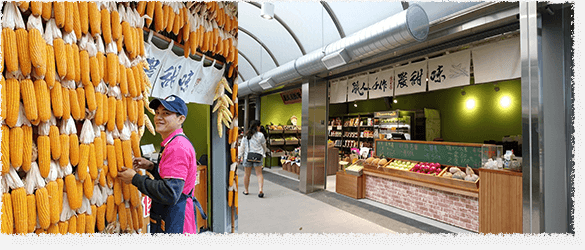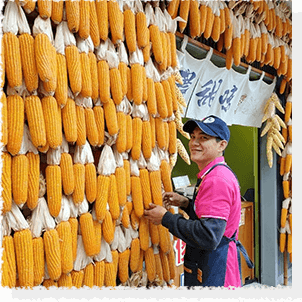 Farm, Sweetness and Taste
"Farm" refers to homegrown produce from the farmers; "Sweetness" refers to the sweetness in life that comes after hard work; "Taste" refers to fresh, farm-to-table taste. A humble and hospitable flair is found at the "Farm, Sweetness and Taste" counter,Modeling after the diligent spirit of Japanese craftsman, a selection of quality, fresh fruits and vegetables from Nantou can be found here.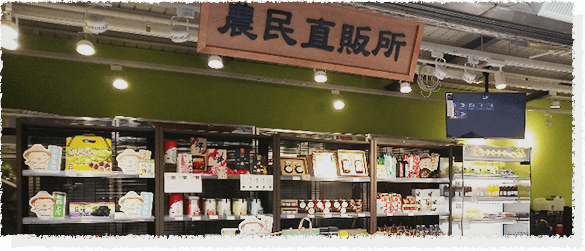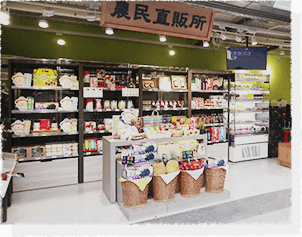 Farmers' Direct
Farmers' Direct sells quality agricultural products from all over Taiwan. Freshly, seasonal products are directly delivered from their respective farms, thereby allowing diligent farmers to gain access to excellent retail platform and stable customer sources and to gain more brand exposure. We provide fresh and safe agricultural products to consumers, so that road users can purchase quality, diverse, healthy and tasty vegetables and fruits from service areas without having to travel all over Taiwan.
Action Plan III:

Creative Promotional Activities
「HTY Happy Moon Festival」 Organic Hakka Pomelo
Starting from 2016, Hsin Tung Yang has been purchasing toxic- and pesticide-free pomelos from Guanxi Farm and Shihwu Uncle Pomelo in each year. Creative promotional activities are organized at highway and airport channels to promote local agricultural products and to give back to the society, so that our service areas can be closely connected with.The local communities. We have purchased over 7,000 pomelos over the past four years, and the proceeds from related charity sales have reached NT$592,000. Activity highlights include:
(1) Elementary school food education: the faculty and students from Dong Guang Elementary School in Hsinchu County were invited to harvest pomelo at Guanxi Farm, thereby achieving food farming education and learning through practice while also supporting the development of local farms.
(2) Charity sale of Hakka Pomelo: pomelo charity sale events were organized at Guanxi and Xihu service areas, and all proceedings were donated to local social welfare groups. We encouraged consumers to purchase local quality products while contributing toward social welfare via press conference and the charity sale events.
(3) Pomelo Peeling Contest: a pomelo peeling contest was organized for domestic and international travelers so that everyone could experience the atmosphere of a traditional, lively Mid-autumn Festival at Taoyuan International Airport.
(4) Pomelo Painting: pomelo painting activity was held for all passengers whose purchases reached a certain amount at shops at Taoyuan and Kaohsiung International Airport, where they could enjoy a great family time painting pomelos and getting to know local Taiwanese produce.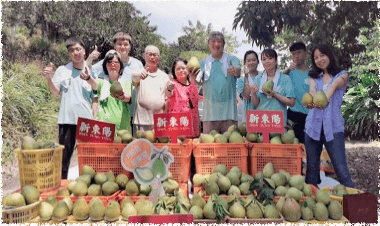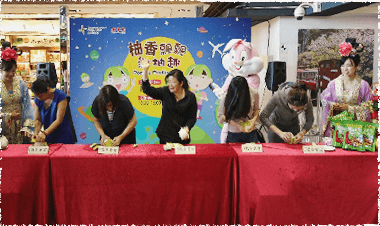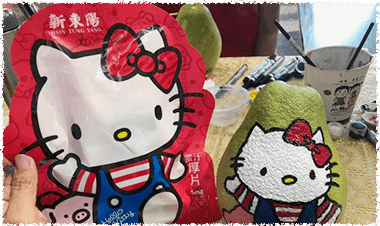 Action Plan IV:

Empowering Young Farmers
In response to the government's policy in supporting young people to return to their hometowns in order to inject new blood into local agricultural industry, Hsin Tung Yang actively participates in interdisciplinary collaborations between the industry, government, and academia. We have cumulatively invested nearly NT$165,000 toward assisting young farmer empowerment programs by executing diverse projects and activities in each year through channels, resource donations, and sponsorships.
Companies Support Young Farmers to Create Farmers' Products
Collaboration with Soil and Water Conservation Bureau, Council of Agriculture, Executive Yuan
NT$40,000 was donated to Miaoli Farmer's Association to support the "tea farmer agents"
Promotional event was held at Qingshui service area along with tea snacks such as pineapple cakes, allowing the public to further understand tea culture.
2018
Help Farmers by Purchasing Bananas for Dragon Boat Festival
Collaboration with Agricultural Cooperative
We purchased 5 tons of quality Nantou banana with the market price of NT$24/kg when banana prices severely declined due to overproduction.
Delivered to 4 highway service areas, and given as gift-with-purchase at food court
2019
National Young Farmer's Market
Supervised by the Council of Agriculture, organized by Agricultural Technology Institute, and assisted by Guanxi Service Center
Consumers were invited to hand-pick produce to bridge the gap between young farmers and consumers through face-to-face interactions, thereby encouraging everyone to support local agricultural development.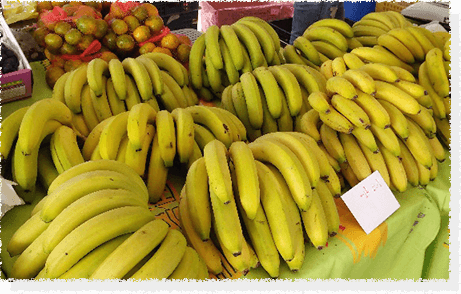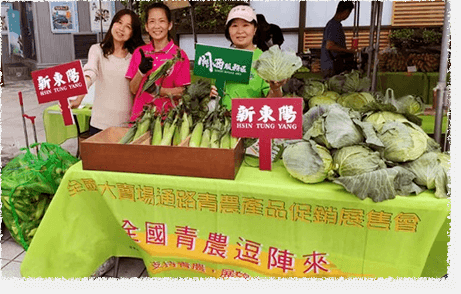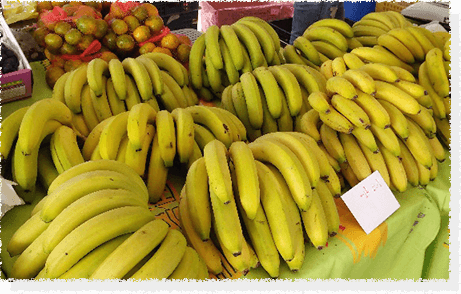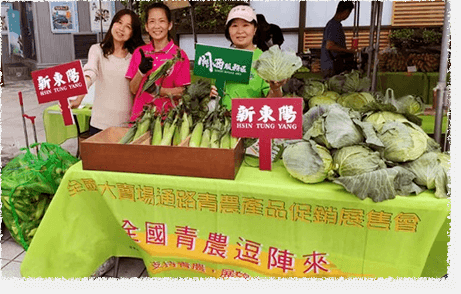 Action Plan V:

Marketing Promotions through Seasonal Publications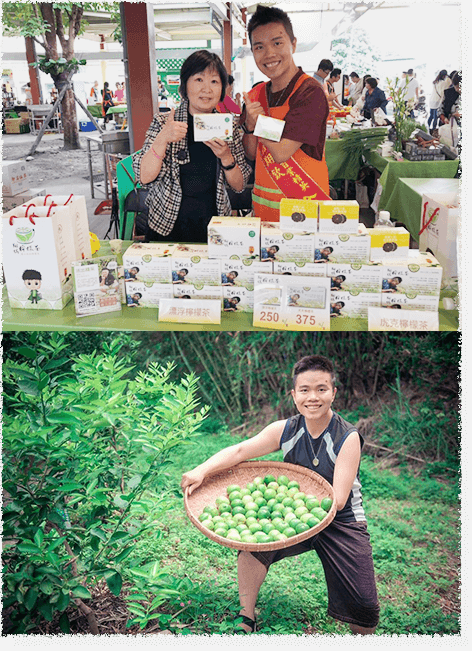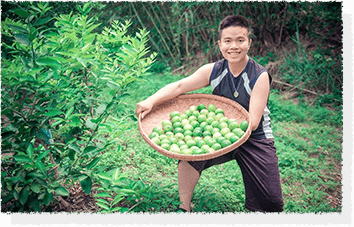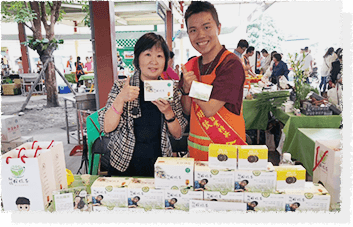 Hsin Tung Yang also introduces seasonal agricultural and special products at each service area to consumers through our seasonal marketing publication, "Freeway Service Area Play & Shopping Guide". Information on local environments, seasonal produce and stories that went behind the production are written to encourage everyone to support and to purchase local products.
【Jan - March 2019】 Introduction to Local Young Farmers - Hook Tea: Packing Fresh Lemons into Tea Bags
Young Farmer Hsiang-Chin Chan is creating unique, all-natural lemon tea from non-toxic seedless lemons, black tea, and stevia. Seedless lemons do not irritate the stomach, and stevia, a natural sweetener, is used in place of sugar in the black tea, resulting in a fragrant, natural lemon tea. Though Chan is physically disabled, he has never given up on himself, and has strove to become a swimming coach and a street artist while growing up. Never did he imagine that he would return home to rekindle his family business in tea-making after being in the workforce for so long. Before going out of business, his family's teahouse was very famous in Xinpu and had operated for three generations. This precious Xinpu history is now resumed by Chan and his sister, who are committed to rekindling the flames of this age-old teahouse under their new brand, "Hook Tea"!
2017 - Received "Hsinchu County Select" and "Model Hsinchu Youth"
2018 - Received "Taiwan Best 100" and represented Hsinchu to participate in expo in Vietnam
2019 - Received "Asia-Pacific Gold Finger Award"
※Retail location: Guanxi Service Area, Xihu Service Area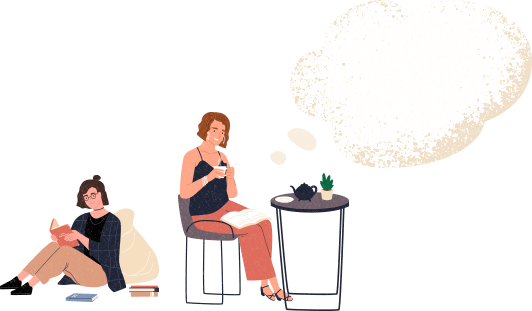 Action Plan VI:

Cultural Promotions at Service Areas
In terms of channel management, Hsin Tung Yang has designed unique features including spatial design, food and beverage, exhibitions, and festivals, to showcase local ethnicities and cultural aspects for every service area. Road users throughout Taiwan are encouraged to experience the local enriched cultres through these features.
Service Area
Local culture
Promotional activities
Guanxi
Hakka culture、Pomelo products

Products from over 30 local Hakka and agricultural units were displayed and sold at "Hakka Hsinchu County" event
Traditional Hakka cuisine is promoted through Guanxi Lunch Box and Hakka Restaurant
Exhibitions including "Freeway Green Corridor: Freeway Construction from Po-lin Chi's Perspective"

Xihu
Miaoli culture、Xihu fruits

"Miaoli Culture Corridor", a display area for artifacts and arts and crafts from towns along the coast, and it is also a collaboration with Culutre and Tourism Bureau, Miaoli County.
Highway Ecology Exhibition" promoted leopard cat protection and showcased purple crow butterflies.

Qingshui
Preservation of renewable、energy culture

"Art Bank" preserves and displays artworks from outstanding Taiwanese artists
"Niu-ma-t'ou Cultural Corridor" is a joint effort with local cultural preservation association, and aims to introduce local culture through "Strolling through Qingshui" cultural map and more

Nantou
Aboriginal culture and purple、crow butterfly conservation

Aboriginal culture is displayed at "LAMUGAN" and "Bunun Ma-naq-tainga Square"
Nantou Creative Shop displays and sells unique products and aborigine handicraft from Xinyi, Puli, and Zhushan tribes
"Aboriginal Month" events have been held in four consecutive year, in which aborigine groups were invited to perform and to hold handicraft DIY workshops
Service Area
Guanxi
Local culture
Hakka culture、Pomelo products
Promotional activities

Products from over 30 local Hakka and agricultural units were displayed and sold at "Hakka Hsinchu County" event
Traditional Hakka cuisine is promoted through Guanxi Lunch Box and Hakka Restaurant
Exhibitions including "Freeway Green Corridor: Freeway Construction from Po-lin Chi's Perspective"
Service Area
Xihu
Local culture
Miaoli culture、Xihu fruits
Promotional activities

"Miaoli Culture Corridor", a display area for artifacts and arts and crafts from towns along the coast, and it is also a collaboration with Culutre and Tourism Bureau, Miaoli County.
Hualien aborigine exhibition on "Taiwanese Children" and special exhibition on light tower scenery
Service Area
Qingshui
Local culture
Preservation of renewable、energy culture
Promotional activities

"Art Bank" preserves and displays artworks from outstanding Taiwanese artists
"Niu-ma-t'ou Cultural Corridor" is a joint effort with local cultural preservation association, and aims to introduce local culture through "Strolling through Qingshui" cultural map and more
Service Area
Nantou
Local culture
Aboriginal culture and purple、crow butterfly conservation
Promotional activities

boriginal culture is displayed at "LAMUGAN" and "Bunun Ma-naq-tainga Square"
Nantou Creative Shop displays and sells unique products and aborigine handicraft from Xinyi, Puli, and Zhushan tribes
"Aboriginal Month" events have been held in four consecutive year, in which aborigine groups were invited to perform and to hold handicraft DIY workshops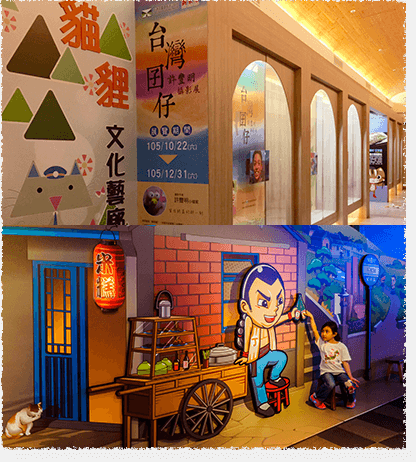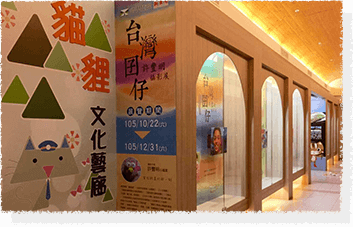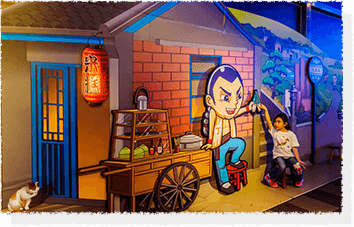 Local Development
Is The Key to Coexistence and Co-prosperity